Change and Transition: Guiding Your Employees Through the Journey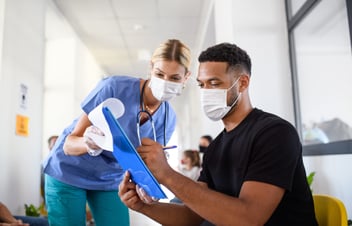 The COVID-19 pandemic has brought a seemingly unending flow of change around the world—particularly for those in the healthcare field. Navigating work and personal life during times of instability and uncertainty can be difficult for many individuals, and it's important that they receive the necessary guidance to approach these situations in a way that is healthy and productive.
Even in more stable times, change is inevitable across all organizations, both large and small, and adjusting to change within management processes can be a difficult task for practice leaders and employees alike. However, when implemented effectively, change models can offer leaders and employees specific guidelines to follow—greatly improving the chances of a successful implementation.
Change vs. Transition
In this context, change is an event that is situational, something external that the individual has no influence over. By contrast, transition is internal to the individual and allows a psychological reorientation to occur as the result of external change.
When change occurs, people often naturally fall into one of three modes: the victim (resists change), the critic (looks for reasons why change will be unsuccessful), and the bystander (reluctant to get involved). Time spent in these three modes is reactive and destructive, and it's important to teach others how to be more intentional about their response and attitude toward change to move toward acceptance and growth.
Education, Cooperation, and Communication
Practice leaders can help guide employees through change by understanding their core needs and training them on effective habits to maintain throughout the process.
Education, cooperation, and communication will help employees understand what to expect and how they can most effectively respond to change in ways that will benefit themselves and the organization.
To learn more about this topic and specific details and resources for how to support staff through periods of change, Curi members are invited to listen to the recent HR|Experts webinar titled, "Change and Transition: A Journey." Members may also contact me directly (dee.brown@callhrexperts.com or 919-431-6096).
About the Author
Dee Brown
Dee Brown is Curi's on-call human resources consultant. Members may contact her directly at dee.brown@callhrexperts.com or 919-431-6096.