The Doctor Is Out: Key Risk Considerations With Physicians Working Remotely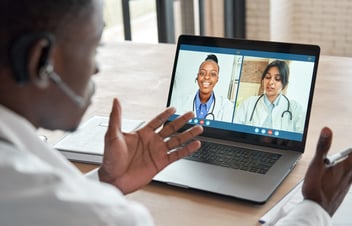 Medical practices' increased use of telemedicine during the COVID-19 pandemic created a unique opportunity to test flexible work options for physicians. Practices have become more open to hiring physicians outside their immediate area (and sometimes across state lines), often allowing them to cut down on potential recruiting and relocation costs and tap into new talent pools in other markets. In addition, physicians whose positions don't require direct contact with patients are more frequently opting to temporarily work from remote locations outside of their practice's home state. While this flexibility can have a positive effect on the caliber of talent and physicians' well-being, supporting remote work can leave practices vulnerable to liability if they do not follow the steps needed to help protect them.
Risks of Remote Work
While the flexibility of fully remote and temporary remote work provides obvious benefits to a practice and its physicians, there are multiple risks that must be considered prior to approving this kind of work. In particular, we have identified five specific issues you should consider:
Work With Multiple Practices
When hiring fully remote workers, practices must develop employment contracts and auditing processes that ensure the physician is working exclusively with them, and/or working no more than a certain amount of time per day. Without a contract, the remote provider could potentially split attention between different employers and/or work for extended periods of time, resulting in fatigue or inattentiveness.
Unfavorable Venues
If your practice's physical location is in a more favorable claims venue, it's important to understand that physicians residing and/or working in less favorable venues may introduce a new layer of risk when medical malpractice suits are filed. Regardless of the location of the patient, lawsuits have the potential to be filed against the physician and the practice in the remote physician's state—which may have a less favorable climate for suit outcomes. To this end, practices should ensure they have policy limits that are in step with remote venues to secure adequate coverage while avoiding limits so high that the physician becomes a magnet for malpractice suits in a remote jurisdiction.
Different Licensure Requirements
States have different licensure requirements for physicians. A general rule of thumb is to assume that remote physicians need to be licensed, at a minimum, in the state in which the patient is located at the moment of treatment. If practices are looking to hire over state lines or permit physicians to temporarily work in other states, they will need to understand the requirements of medical boards in both states in advance and whether they apply to the location of the physician or the location of the patient.
Availability of Medical-Grade Technology
Fully remote physicians and local physicians who sometimes take work with them either to a second home or away on vacation should be certain to have access to the same grade of security and technology they have when they are not remote, including but not limited to reliable high-speed internet connection and equipment/software used for viewing imaging studies. Insufficient technology could increase the likelihood of physician and practice liability for decreased quality of patient communication or missed diagnoses. Plaintiffs' attorneys will contend the same standard of care applies regardless of the physician's location.
Understand Potential Tax, Employment Law, and Billing Implications
Even for physicians working out of state temporarily at a second home or while on vacation, and especially for fully remote physicians, be prepared to consult tax professionals and employment law experts to consider the potential need to report income in another state and understand how a different state's laws could affect employment relationships. You also should confirm that you do not run afoul of third-party payor requirements in submitting bills when the provider and the patient are in different states.
Protect Yourself—Consult Your Malpractice Insurer
Don't wait until the eleventh hour to notify and consult with your Medical Professional Liability insurer about coverage and liability when it comes to hiring and working remotely. Your insurer should provide expert insight and solutions specific to your situation, helping you secure adequate protection against various vulnerabilities. You also should notify your employment practices liability and/or workers' compensation insurer(s) of any changes to staffing models.
If your practice already has or is planning to hire remotely or permit physicians to work remotely, call 800-662-7917 to speak to one of our experts right away.
This article is for informational purposes only and is not intended to be an exhaustive list of all issues that might come into play when physicians treat patients across state lines.
Curi's in-house attorneys cannot and do not offer legal advice to external parties including but not limited to insureds. Communication with Curi's in-house attorneys and/or review of materials published by them does not establish an attorney-client relationship. Please contact your personal or corporate attorney if you require legal advice.
About the Author