Don't Let Your Practice Be Surprised by the No Surprises Act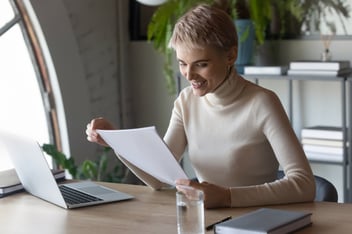 Responding to demands from the public, the No Surprises Act was signed into law in December 2020. This law is intended to prevent patients from owing large amounts of money after receiving services from a physician who they did not know is outside of their insurance network. As of January 1, 2022, this law is now in effect, and physician practices will need to take the necessary steps to remain in compliance with all requirements.
What is "Surprise Billing" and Why Does it Happen?
As described in a prior Curi article, "surprise billing" (also sometimes referred to as "balance billing") refers to unplanned medical bills that weren't paid by the patient's insurance company. Under the American health insurance system, individuals with health insurance are often required to see in-network medical providers if they want the cost to be covered.
In some instances, patients covered by health insurance will be charged the full, non-discounted payment rate when being treated by an out-of-network provider. In cases of pre-planned appointments and elective surgeries, the patient willingly chooses to make higher payments in exchange for seeing the out-of-network provider. However, in some cases, such as when a patient receives emergency services at an out-of-network hospital or is unknowingly treated by an out-of-network physician practicing at an in-network hospital, they simply weren't given a choice. In these cases, the patient's health insurance plan generally pays part of the cost, and the provider will then bill the patient for the remaining amount.
Prior to the passage of the No Surprises Act, a number of U.S. states had passed bills to address surprise billing, and others were considering related legislation. These laws, however, did not apply to self-funded employer-sponsored health plans, which are regulated by the Federal Government and cover more than 60% of privately insured employees.
What Does the No Surprises Act Require?
The No Surprises Act provides federal protection against surprise billing for emergency services (including air ambulances) provided by out-of-network providers and non-emergency services provided by out-of-network providers at in-network facilities for patients in group health plans or with group or individual health insurance coverage. The law also generally helps patients understand potential costs before non-emergency services are provided in most settings. Existing state laws that are more protective of patients than the requirements of the No Surprises Act will remain in effect.
The No Surprises Act provides these protections by imposing two main requirements:
Balance Billing Prohibition. When a patient receives emergency services, including some post-stabilization services, from an out-of-network facility or from an out-of-network healthcare provider at an in-network facility, the facility and/or provider can no longer send the patient a bill for costs not covered by the patient's insurance (beyond the patient's in-network cost-sharing requirement). Similarly, out-of-network providers delivering non-emergency services at covered in-network healthcare facilities cannot balance bill a patient, unless specific notice and consent requirements are followed (when permitted). Instead, providers and health insurers must participate in an independent dispute resolution (IDR) process to determine an appropriate total payment if the parties cannot reach agreement on their own. The specifics of how the IDR process will work currently are in flux, as the IDR process established by the implementing regulations was recently struck down by a federal district court in Texas.
Good Faith Estimate. Health care providers, including free-standing physician practices, and covered health care facilities must provide uninsured and self-pay patients (i.e., those with insurance who are choosing to pay directly for the item or service) with a good faith estimate (GFE) of expected charges, expected services, and diagnostic codes of scheduled services within one to three business days after an item or service is scheduled or a request is made. Among other requirements, the GFE must inform the patient of their right to initiate the patient-provider dispute resolution process if actual billed charges are at least $400 more than the total amount of expected charges listed on the GFE. GFE requirements also eventually will apply to patients with health insurance, but the regulations implementing the requirement for these patients have not yet been released.
The law also imposes various disclosure requirements on health care providers and health care facilities, including emergency facilities, to inform patients about applicable federal and state balancing billing protections, a patient's right to request a GFE, and how a patient can report potential violations of the law.
What Should My Practice Do Next?
While simple in its general concept, the No Surprises Act includes several detailed (and potentially confusing) requirements, and specific actions for preparation will vary based on many factors. All practice leaders should be taking steps now, if they have not done so already, to ensure that they understand the requirements of the No Surprises Act as they relate to their specific practice. Information and resources that will assist providers with implementing the requirements of the law have been distributed by the following organizations and are linked below:
Curi members with additional questions can reach out to me at sam.cohen@curi.com or our Risk Solutions team at risk.oncall@curi.com for assistance.
About the Author
Sam Cohen
Sam Cohen is Curi's Former Senior Vice President of Health Policy. Readers also can follow him on Twitter @samuel_c_cohen.