Lessons from a Young Healthcare Executive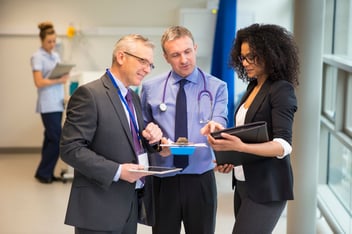 "We're going to be in the Hudson"
This was the final transmission from Captain Chelsey 'Sully' Sullenberger before landing U.S. Airways Flight 1549 on January 15, 2009. A most inconvenient bird strike had catastrophically disabled both engines moments earlier, during takeoff from LaGuardia. His successful water landing and ensuing evacuation is aviation's "Miracle on the Hudson," and all 155 souls aboard survived.
Captain Sullenberger had the benefit of thousands of hours of flight time. As a former U.S. Air Force fighter pilot, his experience, instincts—and perchance a touch of providence—enabled him and his copilot to act and save lives.
Fortunately, healthcare executives are rarely faced directly with life-threatening situations. However, we are often responsible for making decisions that can be life-altering for the people we lead and those they care for. How well we execute those decisions leaves a reputational trail in our wake, for better or worse.
In the first 15 years of my career as a healthcare executive, I was a hospital administrator. I was responsible for leading the team of managers of our hospital support departments like pharmacy, laboratory, respiratory therapy, etc. At one hospital, my scope also encompassed the Emergency Department (ED) – a venue where the head nurse was terrific. All was well until she resigned. I felt like both engines had gone out on me, and my bad day was long before Sully's.
As a non-RN, I was already behind the eight-ball in terms of credibility with the ER team. Of course, I'd recruited new department managers successfully before, but this was different. The ER and OR teams have reputations for being "tough sells" and have a low tolerance for indecision. No wonder, they deal with instant decisions all the time that have life-changing implications.
The internal candidate for the nurse manager position was a solid option. She knew the team and they respected her nursing skills, but she did not have any management experience. I was very hesitant to promote her though, because of MY inexperience. So rather than do the obvious thing (in hindsight!), I looked for external candidates. This turned out to be a glorious waste of time. Worse than the actual delay was my failure to see that my credibility bank with the ER crew was rapidly declining. Finally, after a couple of months, I promoted the internal candidate. She did a good job but I lost something you can never really regain, and that is the trust of the people who look to you for leadership. Within six months, the hospital CEO reassigned the ED to another hospital executive.
Failure to act is a cardinal sin in management.
We never have perfect information when making decisions—whether that's wisdom, data, or a combination of both. I learned as a young executive that it's better to make an imperfect decision and adjust as needed than to wait for the perfect timing, adequate funding, or perfect players.
Many years later, I was the chief administrative officer at a large specialty group, leading the practice's conversion to Epic. During a physician-only training session, I reminded the docs about the Miracle on the Hudson and how it was their primary responsibility to convey calm to their office staff during "go live" week. If they projected confidence, then all would be well for the team that they depended on to treat patients safely and efficiently during this monumental IT change.
My motto for those nervous physicians was "Be Like Sully!" That got a big laugh—and you know what, the Epic launch went really well.
The opinions and views expressed in this blog post belong to and are solely those of the individual author, and do not necessarily reflect those of Curi Advisory or Curi Advisory's parent or affiliated companies or their members, insureds, clients, customers, or partners.
About the Author
Maureen Ruddy
FACHE
Maureen Ruddy is the Former Managing Director, Client Operations at Curi Advisory.