Reflections on Leadership: An Introduction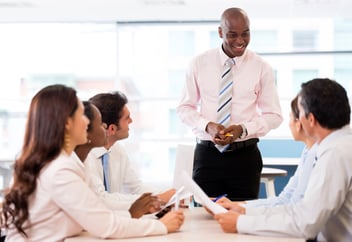 "Maureen Michelle, if you ever have a union in your hospital, it will be because you deserved it".
These words were spoken by my dear dad in 1982 when I told him about my plans to attend the Medical College of Virginia (now the VCU School of Medicine) to study to become a hospital administrator. My father was a proud union man, having worked for United Airlines as a pilot for 32 years. The pilots across the many carriers were unionized, and in those glory days of air travel it was possible for a young man to make a very good living with only a high school diploma and a private pilot's license. That said, my dad never forgot his humble roots, and his children were steeped in those same values. One of those values was that management gets what management deserves—for better or worse.
My first lesson in how to handle 'management' was when I was 16 years old. First job: line server at a steakhouse. And by steakhouse, I mean cafeteria style and '4 tops'—not Ruth's Chris. The manager called our house one day asking if I'd be interested in picking up an extra shift and laid a mild guilt trip about 'dedication' to motivate my decision-making. I covered the phone receiver and whispered to my dad "how should I tell him no?" I repeated my dad's advice verbatim to the manager: "There is a difference between dedication and exploitation." I still laugh about that response almost 50 years later! Unsurprisingly, my career there was short-lived.
Fast forward to my early months in grad school, and a decidedly strong bias by the professors against hospital unions. It came as a surprise to my 22-year-old self—unions had been good to, and for, our family—so why all the bias?
I came to understand, as early as my first 'real job' as a young hospital administrator, that unions strive to hold management accountable. And most managers want to be accountable to, at most, two parties: their 'bosses' and their customers. Unions are a fly in that ointment.
Fear not, this is not a column dedicated to the virtues and pitfalls of unions. I offer this personal history to say that everything I strived to do as a healthcare executive for the past 35+ years was informed by that single statement by my dad. If I was not a good leader and advocate for the staff entrusted to my care and they resorted to a union solution, it was because I would have failed. And I was not going to fail.
In future editions of "Reflections on Leadership," I will describe what went well and not-so-well during the three phases on my career as a hospital administrator and practice management executive: The Student (ages 24-48), The Leader (ages 48-58) and the Continuous Learner (58+). I hope that you find yourself nodding your head in recognition (good or bad) and picking up something valuable that may help you as a leader.
Because we all want to be the type of leaders who would make our parents proud.
The opinions and views expressed in this blog post belong to and are solely those of the individual author, not Curi Advisory or Curi Advisory's parent or affiliated companies or their members, insureds, clients, customers, or partners.
About the Author
Maureen Ruddy
FACHE
Maureen Ruddy is the Former Managing Director, Client Operations at Curi Advisory.