Slips, Trips, and Falls in the Outpatient Setting: Strategies to Prevent and Address Patient Injury at Medical Offices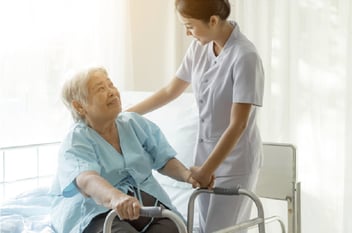 While hospital staff's vigilance about preventing patient falls is well-known, the record with outpatient practices is less clear. Fall risk prevention strategies typically used in hospitals are often impractical for the medical office setting, and there is limited information about relevant mitigation tactics. Nonetheless, slips, trips, and falls pose a significant risk within outpatient facilities. By understanding the risks associated with patient falls and identifying effective prevention strategies, practice leaders can protect patients against unnecessary injury and protect their practice against undue liability.
Addressing the Risk
Of course, patient safety is of the utmost importance in all medical settings, and slips, trips, and falls pose significant risk to patient well-being. Given this risk, fall prevention should be a component of every medical facility's risk management and patient safety initiatives, and it's important to adopt strategies that are both practical and effective for outpatient facilities.
Practice leaders should begin by identifying hazards within the facility that could cause a potential fall, such as equipment blocking hallways, high examination tables, or slippery surfaces, and remove obstacles where possible. Practice staff should also be trained on how to identify patients who are at highest risk for falls, as well as the most common circumstances leading to falls, such as transferring to and from wheelchairs, immediately following venipuncture, or while patients are unattended at exam tables. By setting formal training and procedures for fall prevention, practices can avoid much of the risk from patient falls.
Practice Liability
Laws around liability for slips, trips, and falls within a medical practice are complex and vary by state. Typically, these incidents are unrelated to the reason the patient is seeking treatment, making it more likely for a fall to result in a premises liability claim against the property owner. However, if a fall occurs while a patient is receiving treatment, the claim may be categorized as a malpractice claim. Thorough investigation of the circumstances leading up to and during the incident is critical to understanding the cause of the fall and building a strong defense to protect the practice against undue liability. To that end, we suggest that practices establish clear policies for investigating falls and train staff on how to handle these situations by performing fall-focused physical examinations, obtaining witness statements, and maintaining thorough documentation, including incident reports and investigation forms.
Curi members can click here to access our new Fall Prevention Toolkit, featuring actionable advice and resource documents, including detailed case studies, an environmental checklist, and a sample investigation policy that can help practices build a comprehensive fall prevention strategy. If you have any questions about this topic, please call 800-662-7917 to speak with one of Curi Advisory's Risk Solutions experts.